The tallest building in Thailand coming
Ocean 1 Tower breaks all record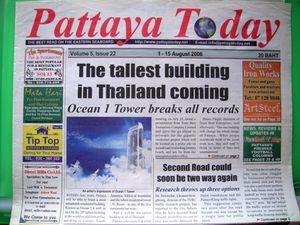 WITHIN four years, Pattaya will be able to boast a most building.
Known as Ocean 1 it will, in fact, be the 20th tallest building in the world overall (dwarfing anything in Europe, South America, Africa or Australia) and the tallest residential tower – 91 floors – in any of the five continents bar none.
And it will be the tallest building in all of Thailand.
Pattaya City council, at a full meeting on July 25, heard a presentation from Siam Best Enterprises Company Limited and gave the go ahead in principle for the gigantic residential project which will be located on a prime site on second road overlooking Jomtien beach, and not far from the immigration police office.
Bruno Pingel, chairman of Siam Best Enterprises, said afterwards, "This one building will change the whole image of Pattaya. When people worldwide think of the resort even now, they still tend to think in terms of bars and entertainment. From 2010, the anticipated completion date, Pattaya and Jomtien will become famous for having the tallest residential tower block in the world. And that's progress"
Bruno also leads the management team of Pattaya Properties Company Limited, which has established a reputation for innovation and comprehensive service with such nearby developments as View Talay Villas, View Talay Residence and Majestic Residence, all located in a highly prominent position at Jomtien Beach.
The total investment is the region of five billion baht and will include 611 condominiums ranging from studios, one, two, three bedroom apartments plus one penthouse and two duplex penthouses. The wave pattern is a dynamic combination of architecture and design to produce a landmark of the skyline which will become internationally famous.
The architect Woods Bagot were given a brief to make a landmark residential building which in addition would be "green" and include as many energy saving ideas as possible. For example, in the elevated zone, each balcony will have and automated system which will close balconies in high winds for safety. A recycling water system means that the water will be purified and reused, whilst hot air from the air conditioning system will provide self sufficient hot water. Double glazed windows will be fitted as standard.
The anticipated financial returns on the project are enormous. It is expected to generate 800.000.000 Baht to transfer taxes, whilst VAT income will be a similar amount. Sales to foreigners could generate $US 200.000.000 in foreign currency income.
Thousands of jobs will be created for Thai families and the tower is bound to become a tourist attraction in its own right, boosting income to local businesses. Ocean 1, once completed, looks set to put Pattaya and Jomtien really on the big time map.
Pattaya To Day – 1-15 August 2006.